Annuaire
de l'industrie textile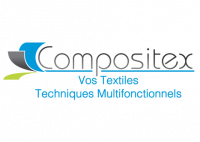 COMPOSITEX
Address
ZI des Pivoisons
Rue Denis Papin
10430 Rosières près Troyes
France
Presentation
Since 1987, COMPOSITEX manufactures multifunctional multilayers complexes adapted for various uses and markets.
These complexes fits to the specifications, crossing technical, aesthetic and economical criterias.
According to the functionalities required by the applications, COMPOSITEX innovates, develops specially adapted products with its customers, and offers a wide sourcing of materials : textile, foam, film, membranes, non-woven.
COMPOSITEX uses various techniques that can be combined with one another : foam laminating, glue spraying, hot-melt laminating, adhesive coating, ...
It's all about the trust between us. Your projects will be run in a human, well-balanced partnership.
Brands ans labels / certifications
---
Markets
Apparel

Lingerie-Corsetry

Image clothes

Sportswear

Home textiles

Bedding

Carpets

Decorative textiles

Technical textiles

Building

Environment

Geotextile & Civil engineering

Hygiene & Medical

Person's help (orthoses, retention stockings...)

Hygiene (Wiping...)

Medical (theatre block and rooms, hospital clothes, surgical dresses, bands and compresses, implants)

Industry

Protection & Security

Helmets, gloves, masks

Shoes

Protective garments

Work clothes

Sport articles

Articles de sport

Clothes, sails and tents

Transport

Aeéronautic/Spatial

Automotive

Rail

Maritime
Materials
Artificial fibres

Synthetic fibres

Natural fibres